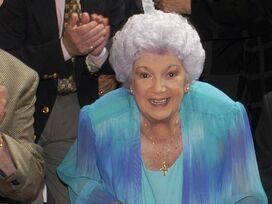 Carmen Margarita Zapata (July 15, 1927 - January 5, 2014) was an American actress. She was best known for playing Doña Luz on the childrens show Villa Alegre. She also founded the Screen Actors Guild Ethnic Minority Committee.                                                                                                                                            DC Comics Filmography                                                                                                                                                                Wonder Woman (TV Series) - Prime Minister                                                                                                                                  Batman : The Animated Series - Maria Vargas
Ad blocker interference detected!
Wikia is a free-to-use site that makes money from advertising. We have a modified experience for viewers using ad blockers

Wikia is not accessible if you've made further modifications. Remove the custom ad blocker rule(s) and the page will load as expected.