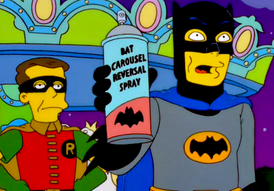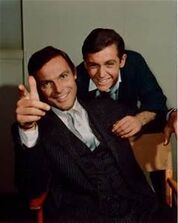 Batman and Robin appeared several times in 
The Simpsons
. In
Beyond Blunderdome
, 
Marg
, 
Bart
,
Lisa
 and
Maggie
 visit the Hollywood Auto Museum. Inside the museum Bart spots the Batmobile with dummies of Batman and Robin inside. Bart then walks up and notices how real the dummies look. Batman then talks to Bart revealing that they are in fact real people. Robin then turned to Batman and said that their boss told them that they would be fired if they didn't stop bothering the customers. In the episode 
Large Marge
, Bart and 
Milhouse
 watch an episode of the 1966 Batman show. In the episode Batman and Robin are tied to a carousel by 
Clownface
 and the heroes defeat him by using Bat Carousel Reversal Spray.
Ad blocker interference detected!
Wikia is a free-to-use site that makes money from advertising. We have a modified experience for viewers using ad blockers

Wikia is not accessible if you've made further modifications. Remove the custom ad blocker rule(s) and the page will load as expected.