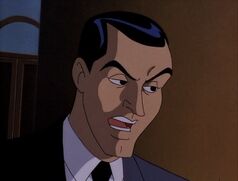 Arthur Reeves was a corrupt city official who was once an intern for Carl Beaumont. He later becomes involved with Valestra's gang in order to gain the influence to enter City Council, and told them where his former boss was hiding in return for campaign funds. Years later, Joker tracks him down and poisons him with his laugh gas. He last appears in the Gotham City Mental Hospital, having been driven insane by the Joker's chemicals.                                         
Ad blocker interference detected!
Wikia is a free-to-use site that makes money from advertising. We have a modified experience for viewers using ad blockers

Wikia is not accessible if you've made further modifications. Remove the custom ad blocker rule(s) and the page will load as expected.